News
Today we started to monitor the temperatures on the datafloor with dozen temperature sensors.
With the measurements we will create a better picture in temperature difference in our datafloor.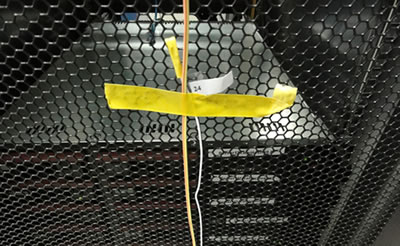 ---
We added a 5kw cooling AC to our UPS room, so that we can cool our UPS units. With a constant low temperature we will be able to extend the lifespan of the batteries.
---
We created a time-lapse video of the construction of our datacenter. The camera toke a picture every minute for for months long.

---
One of our chiller fans was broken, and we replaced the fan within 24 hours. Meanwhile we added some emergency cooling to composite the missing cooling capacity.
---
We noticed on sunny days that we receive extra warmth from the roof. We added some extra isolation to keep out the heat.
---
In the following video you can see how the fiber line was constructed. The video is in dutch, but the most parts doesn't need any description really.

---
Our website is updated. There was a few seconds what needed updating.
Also we currently working on some YouTube movies, which will become shortly available.
---
On 20.36 our cooling units shut themselves down after a sensor reading of too much moisture in the drain. The temperature was slowly climbing to 30 degrees Celsius.
Our engineer was send directly to resolve the situation.
On 21.20 the temperature was normal again.
---
Planned maintenance with the Eurofiber fiber connection. Fortunately everyting is still online via our second fiberconnection.
We keep monitoring the maintenance and we will balance the traffic back once the maintenance is completed.
Meanwhile the ping/access time can be a little bit higher then normal.
---
Finally we have our logo on our building. Finding our building is now a lot easier
---
News
Newsletter
Enter your e-mail adres for our newsletter per email.
Follow us
Downloads
-
Brochure