New UPS
Tuesday 21 July 2015
The old MGE Galaxy 5000 UPS is replaced with a brand new Eaton 93pm UPS. The Eaton 93pm is more efficient and that means less co2 emissions and a lower PUE ratio.
We equipped the new UPS with 2 power modules creating a N+1 environment. If one of the power modules fails, the other can take over the complete load.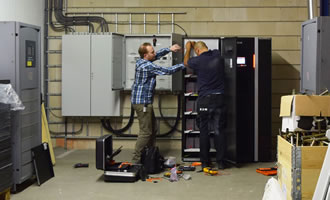 News
Newsletter
Enter your e-mail adres for our newsletter per email.
Follow us
Downloads
-
Brochure