Specifications
The three phases of construction has been completed creating a Tier 3 datacenter. The Tier 3 norm stands for redundant components througout the datacenter (Power, Cooling and Internet). The Tier 3 norm has a minimal expected availability of 99.982%.
InterDC has space for 60 racks, which can accommodate 1800 servers.
A schematic view of our datacenter: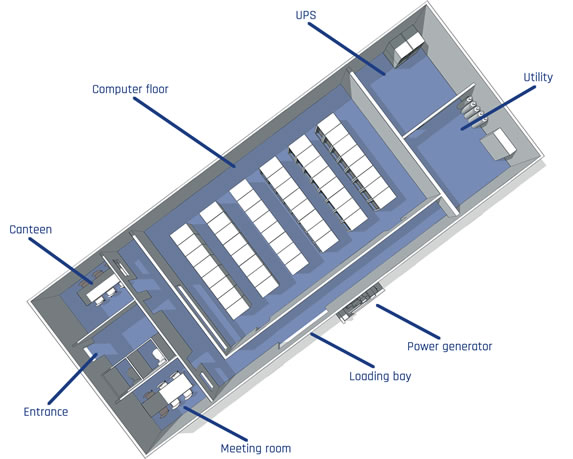 Datafloor
The datacenter consists of approximately 1,290 square foot for a total of 60 racks. The datacenter has a raised floor for optimal cooling and cable management. Cold air is blown under the floor and comes through ventilations panels to the surface. The racks are placed in a hot and cold corridor for optimal cooling.


The racks on the raised floor

Security
The datacenter is secured by multiple HD cameras. These camera's record everything in 720p format. The cameras have motion sensors which give them the possibility to detect possible intrusions in the dark.
Physical access to the data floors is regulated via access cards and unique pin codes. In the event that a visitor lost his access cards, no access can be gained.
Every camera, motion detector, light and doors are managed via our custom build BMS (Building Management Software). In addition, the systems monitors also data room temperatures, power usage and fire detection.
The security plan have been developed by the guidelines of the ISO 27001 certificate.


Camera surveillance

(Emergency) Power
We have a redundant UPS systems running from the company Eaton. If a power failure occurs the UPS systems can power all the servers for 20 minutes. Within 30 seconds the emegercy power generator will kick in and supply the needed power.
Every rack comes with two redundant 16 ampere power feeds (No-break). Additional power feeds for more power are optional.


Eaton 93PM N+1 UPS

Firedetection
On our data floors we have VESDA (Very Early Smoke Detection Apparatus) laser detectors installed. VESDA is a system who is capable to detect fire in the very early stages. When detecting fire the VESDA will give an alarm via our BMS (Building management system).
In the other area's we have mounted co2 fire extinguishers.


VESDA fire detection

Cooling
The datacenter uses free air cooling for most of the year, which means using outside air to cool the servers. This is possible because the temperature in the Netherlands is for 80% of the year beneath 20 degrees Celsius. The remaining 20%, of cooling, uses traditional cooling systems from Trane and Uniflair.
The average temperature in the datacenter is ± 22 degrees Celsius.


Chillers on the roof

Other facilities
InterDC also provides facilities like a meeting room and a canteen for lunch breaks.


Meeting room
News
Newsletter
Enter your e-mail adres for our newsletter per email.
Follow us
Downloads
-
Brochure