Welcome at InterDC
On 23 september 2010 InterDC started the build of a new datacenter in Enschede, thereby becoming the third datacenter in East Netherlands. The construction of the datacenter has now been completed and is fully operational.
The datacenter has a total datacenter area of 1,290 square foot that can accomodate 60 racks.
InterDC is a green datacenter using renewable energy and a free air cooling system.
---
Latest news messages
Connectivity is in this time more and more important. We can proudly announce that NDIX has a pop location (point of presence) in our datacenter.
Order your NDIX vlan today!



---
Early this year we started to prepare our company for the ISO27001 and NEN7510 certifications.
Last Tuesday we had our first external audit by Dekra. We passed the first audit and we are ready for the second Audit which is taking place in January 2018!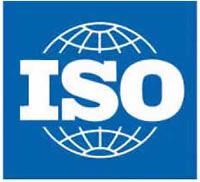 ---
Every year our emergency power generator has to be inspected and maintained.
This year the maintenance went fine and the generator is standing by for a potential power failure.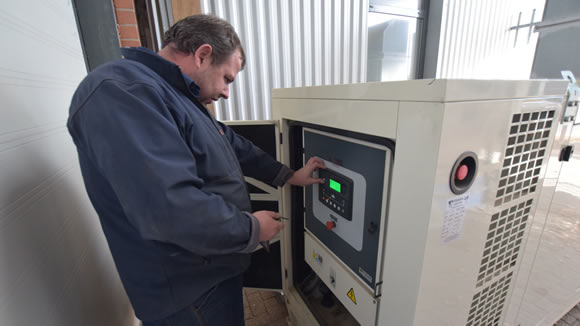 ---
We had a few white racks on our data-floor while most of our racks are black. So we decided to replace the few white racks. The change wasn't needed for the consistent color, but the new racks have an higher degree of perforation allowing an better airflow for the servers.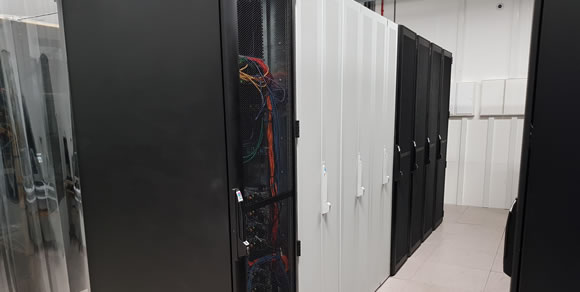 ---
Our UPS had his first big maintenance. In this maintenance window the bypass of the ups was replaced.
The ups was offline for a few hours. Before the maintenance we started our emergency power generator for backup power. So if there is a power outage, our generator is already stared and can take over immediately without power loss to our data floor.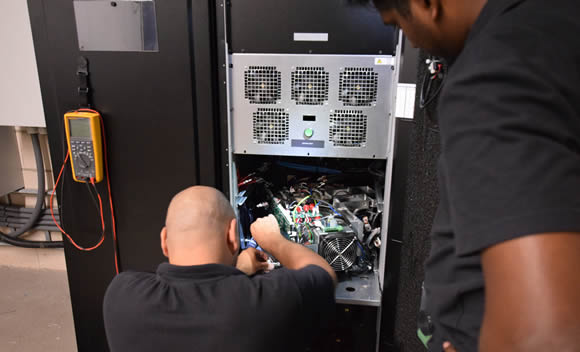 ---
The demanding grow for more internet traffic leads us to invest in high speed network equipment like the 10/40gbit network switches of Arista.
These new switches will be in production soon to keep up with these demands.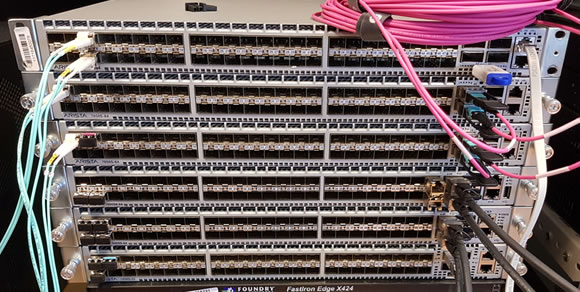 ---
After the expansion of a larger power connection we also needed to expand our UPS.
Luckily our UPS is modular and the Eaton engineers can easy slide an extra module in the UPS.
Our new UPS power capacity is 120kW or 80kW N+1.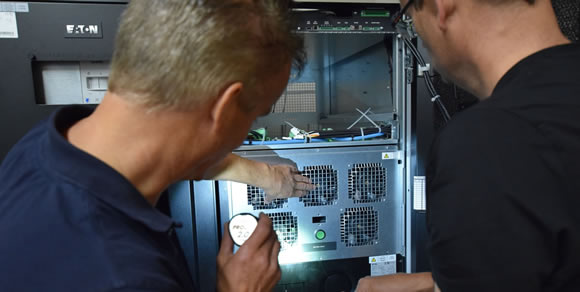 ---
Today we had maintenance on our cooling units. Since we have a redundant setup there was no impact on the temperature on the data-floor.
All units were checked and are running perfectly.



---
Due to the rapid grow of the IT needs of our customers we needed to expand our power connection. For this expansion a new heavy power cable was needed. This cable runs directly from our building to the transformer-building.
With the new power cable in place we are able to provide 3 times more power then before. Enough to power our complete datacenter at 100% load.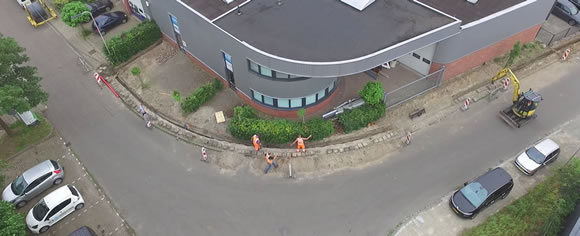 ---
Today five years ago the first server was installed at our data center. Since then a lot has changed. We went from a Tier 1 data center to a Tier3 data center. Also we have now many more equipment hosted at our data center.
The next picture shows our data-room in 2011 VS Now.


---
News
Newsletter
Enter your e-mail adres for our newsletter per email.
Follow us
Downloads
-
Brochure